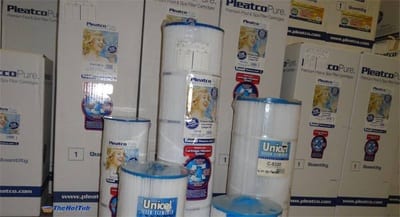 Hot tub cartridge filters should be cleaned regularly and changed annually to keep your hot tub in top shape. Neglected cartridge filters can cause water chemistry issues which can damage pump seals, o-rings and other equipment in the spa. Avoid costly repair bills and maintain your hot tub by getting quality replacement cartridge filters at Canada's The Hot Tub Superstore.
With a huge inventory of hot tub filters, The Hot Tub Superstore ships most filters right away. Take advantage of our discounted pricing and huge inventory. Just find the replacement filter type on the end-cap of the original spa filter and order the same type. Contact TheHotTubSuperstore.com with any questions on hot tub filters.
See the Hot Tub Filters.